Sierra Espuña walks, the Via Crucis between the Santuario de Santa Eulalia in Totana and the Corazón de Jesús viewing point

A 2.4-kilometre walk with great views in the foothills of Sierra Espuña
This walk in the south-western foothills of Sierra Espuña follows a circular route starting and ending at the sanctuary and church dedicated to Santa Eulalia in the La Santa district outside Totana, and including the Corazón de Jesús viewing point which is around 100 metres higher up.
The walk is classified as easy, and usually takes around 50 minutes at a good pace.
The route
The SL-MU 3 walk starts at the Santuario de Santa Eulalia, which stands on the spot where the first place of worship to the Saint was built in 1275, enabling the knights of the Order of Santiago to pay homage to their patron.
Cross the MU-502 road at the roundabout which provides access to the sanctuary and head for the "El Ángel" recreational area, and this marks the start of the Vía Crucis path of la Santa, a sacred walk which has its origins in the pilgrimages made by Christians to the Holy Land.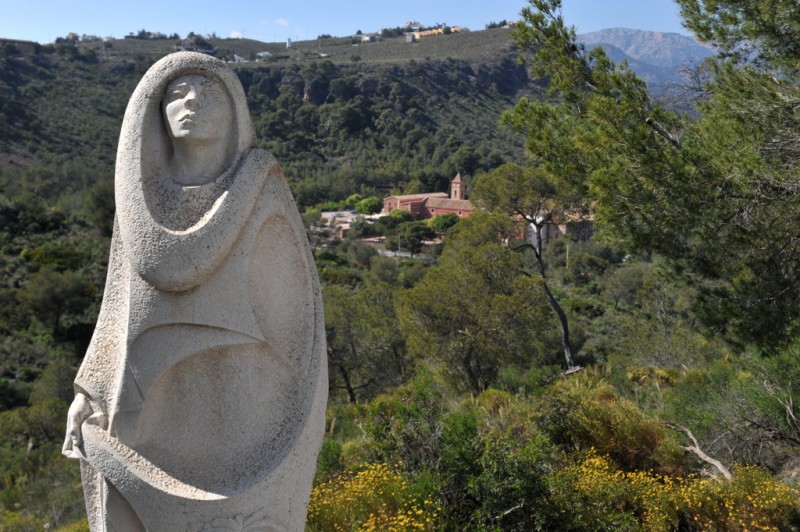 The 14 Stations of the Cross on the route were created by sculptor Anastasio Martínez Valcárcel, whose grandfather and father designed the monumental figures of Christ which have stood on the mountaintop of Monteagudo, in the north-western outskirts of the city of Murcia, since the 1920s. These Stations, showing moments from the Passion and Death of Christ, are the following:
1. Jesus is sentenced to death.
2. Jesus bears the cross.
3. Jesus falls for the first time.
4. Jesus meets his mother.
5. Simon of Cyrene helps Jesus to bear the cross.
6. Jesus is stripped of his clothing.
7. Jesus falls for the second time.
8. The women of Jerusalem weep for Jesus.
9. Jesus falls for the third time.
10. Veronica and the veil.
11. The crucifixion.
12. Jesus dies on the cross.
13. The body of Jesus is taken down from the cross.
14. The body of Jesus is placed in the tomb.
The sculptures along the Via Crucis take walkers to the road which leads up to the Mirador (or viewing point) del Corazón de Jesús, where there are views out over the flood plain of the Guadalentín valley. At the top of the hill is an altar over which is a large sculpture of the Corazón de Jesús.
It is possible to return by the same route, or along a slightly more difficult path which goes down a series of steps to the road. Once the road is reached there is a path called the "Senda de los Eucaliptos" just a few metres away, which goes down the hill alongside the Aleppo pine trees, after which the Sanctuary lies on the other side of the MU-502, past an olive grove.
If you haven't looked inside the sanctuary before setting out, a visit to see the impressive murals is definitely recommended on your return!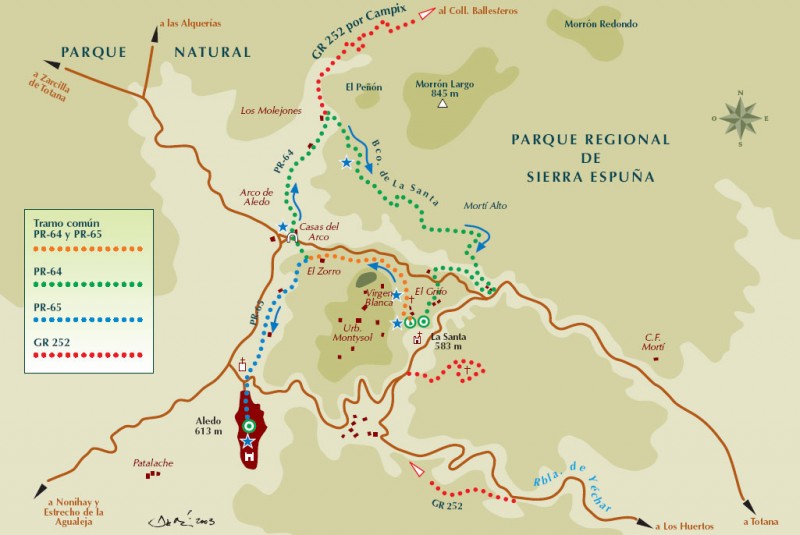 Click for further information about the Totana municipality
Click for more information about the Sierra Espuña
article_detail
Contact Murcia Today: Editorial 966 260 896 / Office 968 018 268