Festival Nacional de Cante Flamenco Lo Ferro
National Flamenco Festival, Lo Ferro
Festival Nacional de Cante Flamenco Lo Ferro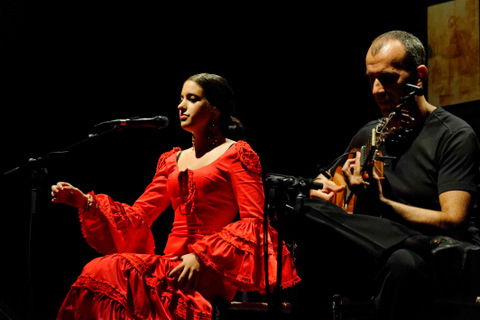 This flamenco festival dates back to 1979 and takes place in Lo Ferro, a small village which probably pre-dates Roldán itself but has remained in the shadow of the town throughout the recent period of growth.

The festival is held every year in the last week of August and has acquired a prestigious reputation and widespread popularity, bringing together on stage some of the best known names in the flamenco world.

The winner of the singing competition is awarded the "Melón de Oro" (Golden Melon), a trophy made of bronze which is donated by the Sebastián Escudero Sanmartín association. This flamenco society was founded in the same year as the inception of the festival.

This festival weaves in all of the elements of flamenco, with dance performances combined with singing and guitar competitions, although cante, vocals, are the most important element.

Tickets: Advance reservations, Tel 968 58 94 69 ( Spanish speaking)
On the door of the Recinto, located by the offices of the Peña Lo Ferro Flamenco
Peña Flamenca Melón de Oro
C/ Murillo, 2. 30709. Lo Ferro - Roldán - Torre Pacheco (Murcia)
Tel: 968 589 469

Online via Instanticket.es, Tel 902 444 300 This can be accessed directly from the web of the Peña, on www.loferroflamenco.com under "venta de entradas"


Flamenco warning
This is pure flamenco, not polka dot "Viva España"so often performed in tourist bars, which is often confused with flamenco by non-Spanish nationals, so be aware of that if booking. Pure flamenco is a profound artform, and tears the soul, although can be harsh on the ear for those unaccustomed to its rhythms and innuendo.


More local info about Roldán in the dedicated Roldán town section, accessed via the map box at the bottom of every page. Roldán is a municipality of Torre Pacheco and falls within the Comarca del Mar Menor
Contact Murcia Today: Editorial 966 260 896 / Office 968 018 268