Date Published: 17/05/2021
ARCHIVED

- Vaccination confusion in Mazarron following chaos last week
This week only those aged 60-69 are being called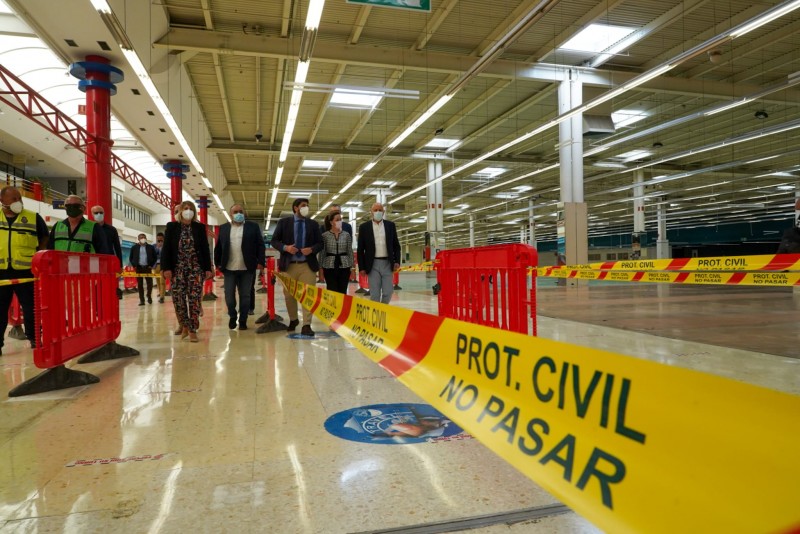 Image: the new mass vaccination point opening in the Cartagena health area next week in the former Eroski supermarket
Last week there was nothing short of chaos in Mazarrón, when residents were forced to queue for hours outside the La Aceña sports pavilion during a day of mass vaccinations, as a result of which, the Murcian regional health authority asked the mayor of the municipality if more appropriate facilities could be provided for the next mass vaccination.

The regional health authority has recently been opting for mass vaccination sites, rather than carrying out vaccinations in local health centres and at one point it seemed likely that the residents of Mazarrón would be obliged to travel to the Cabezo Beaza sports pavilion in Cartagena rather than being vaccinated locally, as the municipality lies within the Area II Cartagena health area.

The town hall maintains that it has offered three sites in which vaccinations could be undertaken; one in the port, another in Mazarrón town and a third on the Camposol urbanisation, but the health authority has opted to continue at the sports pavilion, albeit on a reduced scale, saying that the sites are not large enough.

As a result, only those who have been given appointments and are in the 60-69 age bracket will be vaccinated on Tuesday, some 1900 residents, and the 50-59 age group will have to wait a little longer.

It is unclear at this moment whether they will be obliged to travel to Cartagena to a new mass vaccination point in the former Eroski shopping centre which is much more spacious and has sufficient parking and covered indoor space to handle a larger volume of vaccinees; the council in Cartagena has said that the new vaccination point will be able to process 10,000 people a day when it opens next week.

On Monday Murcian regional president Fernando López Miras complained that in spite of the larger deliveries coming into Spain, that the region is still short of vaccines:
"We want to vaccinate faster, and to more age groups but for that we need more vaccines", he complained.
There are 92,000 vaccines in the region's freezers, of which almost 62,000 are Astrazeneca, "which we cannot administer as long as the Ministry does not give its authorization." "In other words, almost 70 percent of the vaccines that we have in storage can only be given to the population aged between 60 and 69 years old," he remarked, which already has 77 per cent coverage.
Neighbouring Andalucía has threatened to start administering second AstraZeneca doses to its essential workers next week, regardless of whether the national government gives its authorisation or not. It is hoped that the health minister will confirm this week whether the second dose of AstraZeneca can be administered or not, following concerns about the development of blood clots in rare cases, particularly amongst younger people, who were widely vaccinated with the first dose before the problem became apparent.

Contact Murcia Today: Editorial 966 260 896 / Office 968 018 268